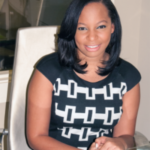 Rakia Finley
Founder & Managing Partner
Rakia Finley is an American software executive, Women in Tech Initiative Leader, full-stack developer, Salesforce MVP, private investor, and philanthropist. She is best known for her work with the Obama Administration on their "Girls in STEM" initiative and continues to develop innovative technology solutions and community initiatives that promote diversity in STEM for girls of color.
Named FemTech's 2016 & 2017 Powerful Woman Programmer, she is one of the highest-earning African-American females in the software industry and North America's first black female owner of a software and product development firm.
Finley was raised by a single mother in Portland, Oregon. On weekdays—after school—Rakia would spend her evening in a cubicle waiting for her mother to get off work. This is where Rakia got her first chance to enter data into a custom database; there was no turning back. At 15 years old, Rakia had convinced the executive team of the Washington Hospital Center to hire her on a contract basis to provide data entry to their billing department. By 19, she was the founder of a database development firm and later founder of Copper & Vine, a fill product development agency.
Sessions