2018 Call for Speakers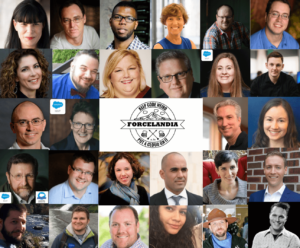 Fellow Forcelandians,
We are now accepting proposed session abstracts for the 4th Annual Forcelandia. Whoooaaaa… but Forcelandia is not until August, right? Right! But we know that some of the best minds think asynchronously, and if you are one of those great minds and have a session idea RIGHT NOW, we'd be happy to park your fabulous idea here and then ping you closer to when we make our decisions (late Spring). We just don't want to let a good idea die out there in the cloud somewhere when we really want you as a part of Forcelandia.
What are we looking for? Speakers that are passionate about their expertise and want to share it with our community!
We are planning on sessions that are around 40 minutes and looking for topics of interest to all levels of developers, from beginning Adminelopers to System Architects, covering areas such as Lightning Components or System Design, Heroku, IoT, Testing… come up with anything that you have experience with that can you can share to help grow our community.
Never spoken before? Then consider co-presenting, and know that we are happy to work with you to get your presentation in tip-top shape! In the developer community, we are in a constant state of learning, and this is no different.
The first round of sessions submissions are due by March 29th, at which point we will put together a solid agenda of topics and let you know starting April 1st so you can make your plans. We will save a few spots for a small second round of submissions if possible. Again, we are really thrilled that you are submitting a session or more to grow our community!
If you have any questions, DM us or email us at info@forcelandia.com